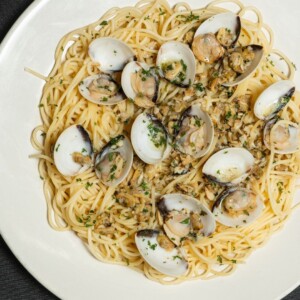 Fettuccine w/ White Clam Sauce
Ingredients
1

lb.

fettuccine

cooked

2

tablespoons

butter

1/4

cup

olive oil

1

teaspoon

minced garlic

1/4

cup

minced green onion

4

teaspoons

minced fresh basil

3

tablespoons

minced fresh parsley

1/2

teaspoon

black pepper

1

teaspoon

salt

1

cup

2 cans drained minced clams or 1 lb fresh baby clams

3/4

cup

clam juice

1/4

cup

grated Parmigiano Reggiano
Instructions
Prepare fettuccine according to package directions. Rinse and reserve.

In butter and olive oil, sauté the garlic, green onions, basil, parsley, salt and pepper till wilted and fragrant.

Add the clams and sauté for 3 minutes, then add the clam juice and simmer for 3 minutes. Add pasta and heat through, then toss with cheese and serve.
Imported Italian Olive Oil
Suggested Products