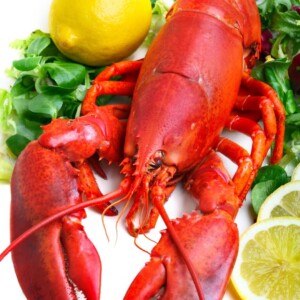 Boiled Lobster
Ingredients
1

lobster

1/2

cup

salt

melted butter

lemon wedges

optional
Instructions
Fill very large pot with enough water to cover the lobster.

Add salt and bring to a boil.

Drop the lobster in the boiling water (upside down, head first) and cover quickly.

Lower heat to a gentle boil. Cook for 15 minutes for a 3/4 - 1 lb. lobster and 20 minutes for a 1 lb. - 1 1/4lb. lobster.

Serve with melted butter and lemon wedges.
LOBSTER POTS
Lobster Fork

HEALTHIER COOKING CHOICES – The steamer basket with high quality stainless steel petals, food grade plastic handle and silicone feet will guarantee your health. Steaming is a healthy cooking choice because it helps retain more than 90% of the nutrients lost when either boiling or microwaving food. The foldable steamer basket can be used to steam veggies, seafood, eggs, meats, desserts, baby food and much more.
EXPANDABLE and COLLAPSIBLE – Vegetable steamer basket collapsed diameter is 6 inches. It expands to 11 inches once petals are stretched out. The "wings" that fold in and out allow the steamer fit various pot/pan sizes or pressure cooker, turning any pan into a steamer. Opens like a water lily and it folds compactly to save storage space unlike bulky bamboo steamers.
FOLDABLE LEGS & REMOVABLE CENTER POST – Three foldable legs with silicone will not scratch your pot. They are 1.8 inch in length to keep food above boiling water so that it doesn't burn. 2.9" Central post helps easy insertion to the deep pots and safe removal from the boiling water, and it is removable to steam large items Like corn on the cob. When your food is ready, remove it from the boiling water with a fork so you won't burn your fingers. Highly polished surface prevents food from sticking to the steamer and make the cleaning easily
MULTIPLE FUNCTIONS - Not only can it be used as a food steamer basket, but also can be used as a strainer or fruit container. You can also use it to filter extra water when making salad. From busy moms to college students to culinary artist, this product is a definitely a must have for anyone who wants to get more health into their diet. It comes in a perfect sized box makes it an awesome GIFT for your family & friends.
MONEY-BACK GUARANTEED - We pride ourselves in having the best steamer insert. As such, your satisfaction is guaranteed. For whatever reason, you don't satisfied with this product. just return it, and we'll refund. We promise you a satisfactory resolution. Limited Time Deals. Click "Add to Cart"
Set of 12 stainless steel forks, heavy duty and durable. Great for everyday use, hotel, restaurant, entertaining, holiday meal and more
Made of premium high quality stainless steel which ensures your health, Rust-resistant, sturdy and durable for years to come
Clean and classy looking, smooth surface and mirror polish makes these forks always keep shining, Modern silverware would match well with your existing cutlery and elevate your everyday meals into a fine dining experience
These dinner forks have a nice weight and length, Not too heavy, not too light, Well balanced and comfortable to hold
If you're not completely satisfied simply let us know and we will offer a prompt refund or replacement, no questions asked
Lobster Bibs

Suggested Products