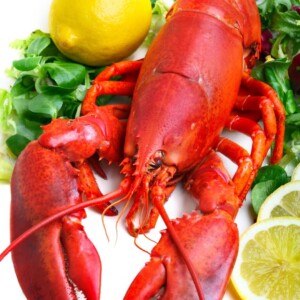 Boiled Lobster
Ingredients
1

lobster

1/2

cup

salt

melted butter

lemon wedges

optional
Instructions
Fill very large pot with enough water to cover the lobster.

Add salt and bring to a boil.

Drop the lobster in the boiling water (upside down, head first) and cover quickly.

Lower heat to a gentle boil. Cook for 15 minutes for a 3/4 - 1 lb. lobster and 20 minutes for a 1 lb. - 1 1/4lb. lobster.

Serve with melted butter and lemon wedges.
LOBSTER POTS
Lobster Fork

INSTANT READ FOOD THERMOMETER | Our instant read thermometer features a temperature probe and advanced, highly accurate technology with 2-3 seconds response time; Instructions, 2 CR2 button battery, meat temperature chart, 4 hook and loop dots for storage, comes pre-calibrated for your convenience, and recalibrating feature if needed.
MULTI-USE | From BBQ thermometer to baking thermometer, our digital food thermometer for cooking is perfect for meats, liquids, deep frying and candy making.
EASY-READ DIGITAL THERMOMETER FOR COOKING | Large instant thermometer dial with bright blue backlight means you can always read the temperature, whether you are grilling in the dark or baking in your kitchen.
WATER-RESISTANT | Perfect digital cooking thermometer for meat, our digital meat thermometer for food of any kind is water-resistant IP66 rated and can be washed and cleaned under running water.
WEDDING REGISTRY SEARCH DIGITAL FOOD THERMOMETER | Our meat thermometers for cooking and grilling are delivered in an elegant, foam lined box, making it the ideal gift for any barbecue or cooking enthusiast or professional. Makes for the perfect food thermometer for cooking.
Include a bag of SkinnyPop into your Easter Basket! The perfect guilt free snack to accompany every occasion: You'll receive 6 (.65oz) individual bags of Skinny Pop popcorn that's perfect for any occasion
Only 100 calories per bag, Non GMO, Gluten Free, No Artificial Ingredients, Dairy Free, Peanut and Tree Nut Free. SkinnyPop popcorn has zero trans fat, zero preservatives, and is a good source of fiber
A delicious, healthy snack popped to perfection for kids lunches, break between video calls, or just a snack for yourself. Perfect for kids as back to school snacks
Stock up on this healthy, convenient popcorn snack now! SkinnyPop does popcorn so that you can do you
SkinnyPop was founded with a simple premise: people deserve snacks that taste delicious and are good for them. Get yours today!
HEALTHIER COOKING CHOICES – The steamer basket with high quality stainless steel petals, food grade plastic handle and silicone feet will guarantee your health. Steaming is a healthy cooking choice because it helps retain more than 90% of the nutrients lost when either boiling or microwaving food. The foldable steamer basket can be used to steam veggies, seafood, eggs, meats, desserts, baby food and much more.
EXPANDABLE and COLLAPSIBLE – Vegetable steamer basket collapsed diameter is 6 inches. It expands to 11 inches once petals are stretched out. The "wings" that fold in and out allow the steamer fit various pot/pan sizes or pressure cooker, turning any pan into a steamer. Opens like a water lily and it folds compactly to save storage space unlike bulky bamboo steamers.
FOLDABLE LEGS & REMOVABLE CENTER POST – Three foldable legs with silicone will not scratch your pot. They are 1.8 inch in length to keep food above boiling water so that it doesn't burn. 2.9" Central post helps easy insertion to the deep pots and safe removal from the boiling water, and it is removable to steam large items Like corn on the cob. When your food is ready, remove it from the boiling water with a fork so you won't burn your fingers. Highly polished surface prevents food from sticking to the steamer and make the cleaning easily
MULTIPLE FUNCTIONS - Not only can it be used as a food steamer basket, but also can be used as a strainer or fruit container. You can also use it to filter extra water when making salad. From busy moms to college students to culinary artist, this product is a definitely a must have for anyone who wants to get more health into their diet. It comes in a perfect sized box makes it an awesome GIFT for your family & friends.
MONEY-BACK GUARANTEED - We pride ourselves in having the best steamer insert. As such, your satisfaction is guaranteed. For whatever reason, you don't satisfied with this product. just return it, and we'll refund. We promise you a satisfactory resolution. Limited Time Deals. Click "Add to Cart"
Lobster Bibs

Suggested Products