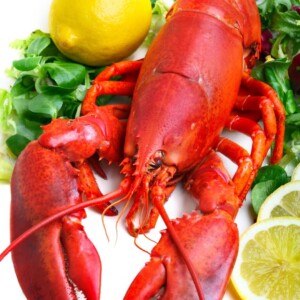 Boiled Lobster
Ingredients
1

lobster

1/2

cup

salt

melted butter

lemon wedges

optional
Instructions
Fill very large pot with enough water to cover the lobster.

Add salt and bring to a boil.

Drop the lobster in the boiling water (upside down, head first) and cover quickly.

Lower heat to a gentle boil. Cook for 15 minutes for a 3/4 - 1 lb. lobster and 20 minutes for a 1 lb. - 1 1/4lb. lobster.

Serve with melted butter and lemon wedges.
LOBSTER POTS
Lobster Fork

Christmas Gifts Black Friday Cyber Monday Sales Deals 2019 Funny Toys - - One pair - These 14.5" long latex clawes slip on over your hands like gloves and instantly make you more lobstery
No sharp parts, friendly to children.Perfect Size - They fit on older children and adults and stay on easily.
Material:High quality Latex , Soft and smooth. Size - The length of claws glove is 35 cm,the circumference of claws glove is 32 cm, the glove entrance circumference is 29 cm.
Best purchase of the year. Best choice for fans of Crab or lobster cosplayer ..
Lobsterman - i prowl the neighborhood by night...lobsterman! evil flees in the face of my mighty pincers...the streets are safe...the night breeze is cool on my bony armor...i sleep in a tide pool by day protected by vigilant trigger fish..these claws have opened a whole new vista of existence...
AWESOME FIT: Fits True to size, great fit and feel - Wash with cold water, inside out. Want to make dad look like a super star? This shirt has a great look and cool fit. This men's funny t shirt fits great and is great for men, teenagers and kids. Nothing beats a t shirts for a gift. Currently Unsupervised. Makes A Great present for someone special.
TOP QUALITY: Our Graphic Tees Professionally screen printed designed in USA by Feelin Good Tees. Nothing beats our selection of funny sarcastic tshirts! It will make great father's day gifts, birthday present, friend gift, dad gifts, Christmas gift. This is a great mens t shirt. Everyone needs a little humor and sarcasm.
GREAT FEEL: Our Shirts are 100% preshrunk cotton exceptions; AshGrey is 99/1cotton/poly; SportGrey is 90/10cotton/poly if available. Available in 2XL,3XL,4XL,5XL Tee will bring adult humor out. The sarcasm laughs will flow. Graphic tee makes gift for dad. Great gift idea for teenagers, boys and girls, dads, uncles and best friends.
HAVE FUN: Get your humor on with this fun tee. The best funny tshirts. Sarcastic and novelty in one tee shirt. Birthday tshirt best cotton tee. Great ice breaker. Love the soft feel probably wear it day and night nothing beats tshirts you can sleep in. This cool and stylist t shirt is professional printed.
MAKES GREAT GIFT: See all our funny tees! Graphic tee makes best gift idea. Christmas, Fathers Day, Mothers Day, gift friends, brother/sister. Welcome home gift. Long lasting tees wear to party movie and all year. Perfect for back to school or a Christmas gift. Gif them something they will wear all year long. Make sure its a Feeling Good Tees.
Lobster Bibs

Illusion necklace featuring mixed faceted beads, delicate stone accents, lovely flowers and heart embellished with woven mixed multi-colored charms. Necklace is set in gold-tone metal with a lobster clasp closure.
Gold-tone metal with glass and plastic
Length: 16" + 3" Extender
Frontal Drop: 3.5"
Lobster clasp closure
Imported
Delicate and Dainty: If you love to layer or gravitate towards simpler styles, this piece is perfect for you. You won't get tired of the Elisa Adjustable Length Pendant Necklace, because it was made with everyday wear in mind.
Colorful: We've never shied away from incorporating color at Kendra Scott, and with the Elisa Adjustable Length Pendant Necklace in your jewelry box, the perfect pop of color is never far away.
Details: This necklace measures 0.63 L x 0.38 W stationary pendant, 15 chain with 2 extender.
Gift Box & Jewelry Bag: Your Kendra Scott Jewelry will arrive pre-packaged in a genuine branded gift box and jewelry bag. This necklace makes a perfect gift for Valentine's Day, Christmas, your wedding anniversary, Mother's Day and birthdays.
How to Care for Your Kendra Scott Jewelry: To protect the plating, remove your jewelry prior to hand washing, swimming, exercising, cleaning, and before applying any kind personal body products. Maintain your jewelry's high shine by avoiding contact with soap, perfume, lotion, makeup, hair & cleaning products.
Dangle earrings featuring pink faceted stone heart detailed with small critter and flower accent. Earrings are set in gold-tone metal with shepherds hook closure.
Gold-tone metal with glass
Length: 1.25"
Width: 0.75"
Shepherds hook closure
Imported
Suggested Products