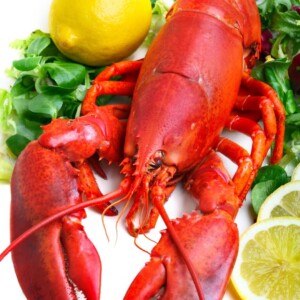 Boiled Lobster
Ingredients
1

lobster

1/2

cup

salt

melted butter

lemon wedges

optional
Instructions
Fill very large pot with enough water to cover the lobster.

Add salt and bring to a boil.

Drop the lobster in the boiling water (upside down, head first) and cover quickly.

Lower heat to a gentle boil. Cook for 15 minutes for a 3/4 - 1 lb. lobster and 20 minutes for a 1 lb. - 1 1/4lb. lobster.

Serve with melted butter and lemon wedges.
LOBSTER POTS
Lobster Fork

Contains 1- 3.5 Ounce resealable stand up bag of Squirrel Brand Sweet Brown Butter Cashews
Our Sweet Brown Butter Cashews is a truly decadent treat. First, we brown the butter to bring out its nutty, toasted flavor
Only the best gourmet cashews are then layered with a combination of the browned butter and rich sugar until a luscious, crunchy coating develops that yields an indulgently sweet masterpiece
Our artisan nuts are perfect for entertaining and make great gifts, or treat yourself to exquisite and unique taste whenever the mood strikes. The possibilities are endless
Squirrel Brand Nuts is the oldest and finest nut company and has been making small batch kettle crafted artisan nuts since 1888. Our gourmet nuts feature exquisite, mind blowing flavor combinations
One 8 oz. shaker bottle of Kraft Grated Parmesan & Romano Cheese
Kraft grated cheese resealable shaker bottle allows you to add just the right amount of cheese
Blend of Parmesan and Romano cheese
Finely grated cheese is easy to add to food
Made with premium quality milk
No Fillers
Can be used in almost any recipe
0 carbs
✅DURABLE: Heavy duty plasticware. Knives slice without breaking, strong forks spear food, spoons for hot or cold liquids.
✅ELEGANT: Classic and timeless cutlery that fits well in formal or casual settings.
✅SAVE MONEY: Reusable, washable. Buy safely with our free 30 day 100% refund guarantee.
✅SAFE: Food safe, BPA free, recyclable, kosher certified, fridge safe, freezer safe.
✅EVENTS: Parties, celebrations, weddings, showers, banquets, buffets, catering, cookouts, and more.
Lobster Bibs

Waterproof : Waterproof and comfortable the fabric is not only waterproof, and also soft and comfortable. Even if you use it in the rain, there is no worries to get wet.【Now we have changed the size of American Standard, the old size has been all offline.】
Fabric: This raincoat is made of high-tech Nano polyester pongee 240T lotus leaves style waterproof fabric, it is waterproof, soft, comfortable, anti-oxidant, non-degumming, odorless and so on.【 The details can be shown in the new size chart. The size opinion in reviews can not be the references.】
Process design: two big waterproof pockets are designed in the front, which makes it convenient. The suture is treated with special waterproof glue, which gives the product high toughness, and non-degumming for long time, The double seal design prevents the water leakage at the zipper position.
Air Flow: on the back of the item, we design the air flow holes. And the inside mesh lining design makes excellent air flow.
Transparent Brim: The brand-new transparent brim could block the sunshine, but still allow you to have clear view. On the top of the hat, we design the Velcro tightening to adjust the height of double brim. The brim is detachable to fulfill multiple task under various environments.
FULL-COVERAGE BIBS: High-Quality Large Sized Bibs Provide Full Coverage For Adults During Meals And Measure 18"X30" - Adult Bibs Protect Chest and Lap from Spills and Stains - Great For Use By Caregivers, Nursing Homes, Hospitals and at Home
SUPER ABSORBENT TERRY CLOTH: Washable Bibs Are Made From Super Soft, Ring-Spun Cotton that Easily Absorbs Liquids - Material is 100% Cotton with a Double-Stitched Hem Making It Durable and Long-Lasting
MULTIPURPOSE: These Heavy-Duty Bibs Protect And Shield During Eating, Painting, Messy Art Projects, Cooking and DIY Projects - High-Quality Fabric Is Shrink Resistant, Lint Resistant and Easily Masks Stains While Functioning As A Protector For Clothes
COMFORTABLE & EASY TO WEAR: Easily Custom Fit with the Velcro-Style Neck Closure - Material Is Super Soft, Lightweight, Breathable, and Fits Comfortably Over Clothing - Easy To Put On And Take Off - One Size Fits Most
VALUE PACKS: Perfect For The Elderly Or Disabled - Stock Up On These Machine Washable Bibs Now
Suggested Products