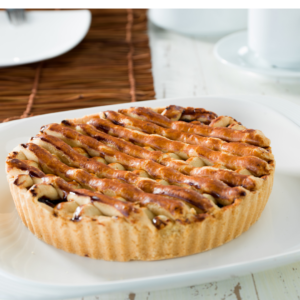 Apple and Cheddar Tart
Ingredients
Pastry

2

cups

unbleached flour

12

tb

chilled butter

cut into ¼" dice

½

c

shredded Vermont sharp cheddar cheese

¼

tsp

salt

1/8

tsp

freshly ground pepper

6

tb

cold water

Onions

8-10

large yellow onions

thickly sliced (16 cups)

4

tb

butter

4

tb

olive oil

1

tsp

salt

¼

tsp

freshly ground pepper

6

crisp Vermont apples

Macoun, Baldwin, Granny Smith peeled, thinly sliced

2

cups

heavy cream

Apples

6

crisp apples

peeled, ¼" sliced

2

Tbs

butter

Cheese

2

cups

grated Vermont sharp cheddar cheese
Instructions
Directions

In a Cusinart, combine butter, flour, cheddar cheese, salt and pepper. Process, by pulsing, until consistency of coarse cornmeal. Slowly add cold water until a ball forms, remove. Knead lightly until smooth, wrap in saran and chill, about 30 to 60 minutes.

Roll out pastry, on a floured board, to ¼" thick, fit into a 10 inch quiche pan or 8 individual tart pans, prick the bottom and chill again before baking 10-15 minutes in a 425 degree oven until golden brown and crisp.

Meanwhile sauté onions, salt and pepper in oil and butter in a heavy pan over medium heat until well-coated and beginning to wilt. Cover and sauté until very tender and juicy. Uncover. Add thinly sliced apples and cook over high heat until very brown, soft and tasty, about 30 minutes, stirring frequently. Then add heavy cream, continue cooking and stirring until cream is thick enough to coat a spoon.

Sauté the ¼" thick apples in butter until cooked through but not too soft.

Assemble the tart. In the pre-baked pastry shell place a thick layer of creamy onions and apples. Arrange apple slices in concentric circles on top. Cover all with a thick layer of the grated cheese.

You can assemble the tart up to a day ahead of serving. Before serving, heat the tart in 350 oven until the cheese begins to melt and the onions are hot, about 15 minutes in a preheated oven. Just before serving, place the tart under a hot broiler about three minutes or until the top has browned into a delicious crust.
Suggested Products