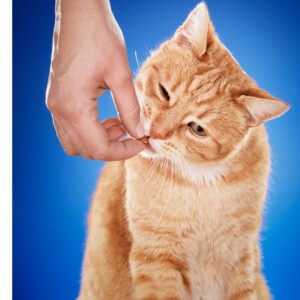 Tuna Cat Treats
Ingredients
1/2

C

Whole wheat flour

1/2

C

Nonfat powdered milk

1/2

Can Tuna

1

T

Vegetable oil or cod

liver oil

1

Egg beaten

1/4

C

Water
Instructions
Preheat oven to 350 degrees and grease cookie sheets with cooking spray.

In large bowl, mash the tuna into smaller pieces. Then add flour and milk. Mix well. After all is mixed pour in water and oil. Mix well again. Now, beat egg in separate dish until dish until egg gets a foamy texture. Add to mix. Mix well.

The dough mix will be sticky. Using your fingers shape dough into small bite size balls, about the size of a marble. Put balls on greased cookie sheets. Flatten with hand. Bake for 10 minutes. Remove treats from oven wait five minutes and turn treats over so other side will cook.

Bake 10 more minutes or until golden brown in color. Place treats on cookie rack to cool. Cool for 15 minutes.
Notes
NEVER give hot treats to your pet.
Premium Cat Food Sale
Kitty Litter Sale

Dog and puppy pee pads for indoor, outdoor, or car use; ideal for puppy training, assisting senior dogs, or travel
Includes 100 Regular size, standard absorbency pee pads for puppies and dogs
5-layer construction with absorbent core that turns liquid into gel on contact
Quick dry surface with built-in attractant helps aid in potty training
Plastic border on all 4 sides to prevent overflow
Leakproof plastic lining to keep floors safe from damage
Product dimensions: 22 x 22 inches (LxW, overall); 19 x 19 inches (LxW, center pad); 1.65 inch border
CERTIFIED GENTLE AND SAFE Chlorine free and color safe. Safe to use around pets and children. No hazardous propellants, no residue left behind. So gentle it's been Certified Safe for all carpets, earning the Seal of Approval by the trusted Carpet and Rug Institute (CRI)
ELIMINATES STAINS, ODORS AND RESIDUE If it's gross, it's gone. Not just the stain, but the stink. From stinky yellow pet urine and feces to vomit and other organic spills, our professional strength formula tackles them all.
EVERY SURFACE, EVERY TIME For use on carpets, floors, furniture, clothing, litter boxes, kennels, carriers, all pet living and sleeping areas—anywhere stains happen.
ENZYME ACTIVATED The key is getting to the problem deep-down. This spray contains natural enzymes that are activated on contact with odors and stains, feeding on ammonia crystals and organic matter until they are completely eliminated.
100% SATISFACTION GUARANTEED An Amazon best seller—for a reason. If your stains and odors aren't gone, neither is your money. We'll refund it in full.
Cat Collars
Cat Food Bowls
Use the world's leading dog DNA service: Uncover your dog's breed mix down to 1% by testing for 350+ breeds & varieties; Wisdom Panel has tested 2M+ dogs and has the world's largest dog DNA database
The highest rated dog DNA test on Amazon.com: Know what medications and procedures are safe for your canine companion by screening for 25+ medical complications including drug sensitivities like MDR1
Every dog has a story: Uncover the ancestry, trait, and key health insights you need as a pet parent to help make your furry family member happy and healthy
Your dog is one-of-a-kind, find out why: Understand what makes your pup so unique with 35+ trait tests revealing the factors behind hair length, ideal weight, muzzle shape, and more
Swab, send, and smile: Just swab your pup's cheek, send your kit to our lab with the provided pre-paid shipping and you'll get results in 2-4 weeks
Suggested Products