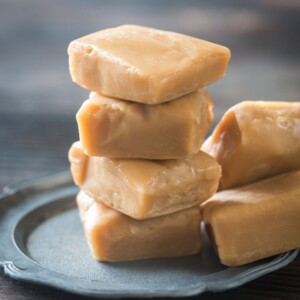 Maple Candy
Ingredients
2

Cups

Fancy-grade Maple Syrup
Instructions
In a heavy-bottomed 4-quart pot, boil maple syrup on medium-high heat to 235 degrees F, stirring the surface occasionally to keep it from boiling over.

Immediately remove the pot from the heat, leaving the thermometer clipped to the side, and place the pot on a wooden board to cool. (Do not touch the syrup while it is cooling, or large crystals will form.)

Cool the mixture to 175 degrees F, approximately 10 minutes.

Beat the mixture rapidly and continuously with a wooden spoon until the syrup becomes lighter in color, thick and creamy and begins to lose its gloss (about 4 to 5 minutes).

Pour into rubber maple-sugar molds or a buttered pan. If using a pan, score into squares immediately). Set aside to cool.
Suggested Products