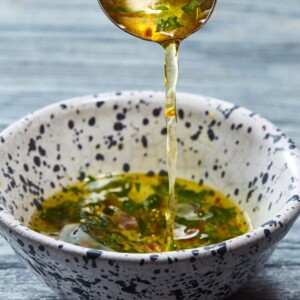 Italian Salad Dressing
Ingredients
6

tb

olive oil

2

tb

white wine vinegar

2

tb

chopped fresh parsley

1

tb

fresh lemon juice

2

minced garlic cloves

1

ts

dried basil; crumbled

1/4

ts

dried crushed red pepper

1

pn dried oregano
Instructions
Combine all ingredients in small bowl and whisk to blend. Season to taste

with salt and pepper.

Cover and refrigerate.
Fine Olive Oil
White Wine Vinegar

NUTELLA HAZELNUT SPREAD: Discover the Original Hazelnut Spread that's a classic around the world and spread a Nutella smile with the perfect breakfast spread. Start the day with a 35.3-ounce jar of Nutella
DISCOVER DELICIOUSNESS: Each jar of Nutella contains the irresistibly creamy taste of the hazelnut spread with cocoa that you know and love
WAKE UP TO WOW: Wake up to the Nutella spread that puts a delectable experience on your plate—with the perfect breakfast or brunch topping for pancakes, waffles and bread
MADE FOR BAKING: Baking with Nutellla opens up a world of delicious possibilities with this rich, creamy spread. From a savory ingredient to an irresistible topping, adding Nutella can make your cupcakes, muffins, cookies and recipes more irresistible
WHAT TO EAT WITH PANCAKES? Whether it's a pancake mix or homemade flapjacks, try the spread that's perfect with pancakes on Pancake Day, or any day of the year
ROBUST EXTRA VIRGIN OLIVE OIL: Expertly crafted by The Olive Oil People, this full-bodied extra virgin olive oil is made from first cold pressed olives, grown and nurtured by our family of farmers.
FULL-BODIED, ROBUST TASTE: Pompeian Extra Virgin Olive Oils are ideal for any meal that starts with a sauté and ends with a drizzle. With its robust flavor profile, Pompeian Robust EVOO is perfect for salads and marinades!
100% FARMER CRAFTED: Quality from The Olive Oil People since 1906.
IMPORTED, FIRST COLD PRESSED EXTRA VIRGIN OLIVE OIL: Certified for Authenticity by the North American Olive Oil Association (NAOOA).
COMMITTED TO QUALITY: Pompeian Robust Extra Virgin Olive Oil is Naturally Gluten Free and Non-Allergenic, Kosher, and Non-GMO Verified by the Non-GMO Project.
Suggested Products