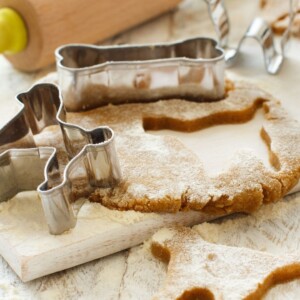 Dog Cookies
Ingredients
2

cups

all-purpose flour

1

cup

cornmeal

1

large egg

beaten

3

tablespoon

vegetable oil

1/2

cup

chicken broth

2

teaspoons

dried parsley

1

cup

chopped cooked chicken livers

1

teaspoon

brown sugar

1

cup

canned mixed vegetables

mashed
Instructions
Combine flour and cornmeal.

In a separate bowl, beat egg with the oil; add broth and parsley, mixing well.

Slowly stir the dry ingredients into the wet ingredients, mixing well. Add the chicken livers and mix well.

Turn out onto a floured work surface and knead for 3 to 5 minutes. Roll dough to 1/2-inch thickness and cut into desired shapes.

Bake at 400*F for 15 minutes or until nicely browned. Cool completely on wire racks.
Premium Dog Food Sale

Puppy Treats

Dog Med Sale
Dog Leashes
Pet Food Bowls
Suggested Products