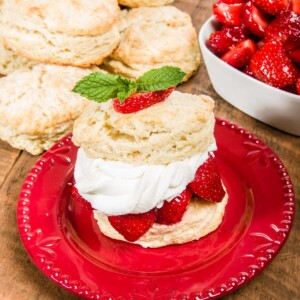 Buttermilk Strawberry Shortcake
A light biscuit topped with delicious strawberries
Ingredients
3 cups all-purpose flour
4 teaspoons baking powder
1 teaspoon baking soda
⅓ cup sugar
1 ½ teaspoons salt
¾ cup cold unsalted butter, cut into small pieces
1 cup buttermilk
2 tablespoons heavy cream
1/8 cup sparkling sugar
8 cups sliced fresh strawberries
¼ cup white sugar
Instructions
Preheat the oven to 425 degrees F
Line a baking sheet with parchment paper.
Whisk together flour, baking powder, baking soda, 1/3 cup white sugar, and salt in a mixing bowl.
Cut in cold butter until the mixture resembles coarse crumbs.
Stir in buttermilk until the flour mixture is moistened.
Drop 1/3-cup scoops of the dough 2 inches apart onto the prepared baking sheet.
Brush biscuits with heavy cream and sprinkle generously with sparkling sugar.
Bake in the preheated oven until golden brown, 15 to 20 minutes.
Mix together the sliced strawberries 1/4 to 1/2 cup sugar (depending on tartness of berries), in a large bowl. Allow berries to rest until juices develop, about 30 minutes.
Serve the strawberries with juice over the biscuits.