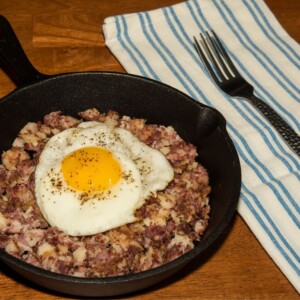 Corned Beef Hash
Ingredients
4

cups

chopped Corned Beef

1

large onion - chopped

1/4

cup

chopped cooked carrots

3

cups

chopped or mashed potato

1

med clove minced garlic

1

stick of butter
Instructions
In a large skillet sauté chopped onion, and garlic in the melted butter until lightly browned. Add Corned Beef and Potato and carrots to pan. If this mixture seems to stiff and hard to mix add milk or half and half to make the mixture more workable.

Continue cooking on medium heat Fresh Corned beef hash will take several minutes, anywhere from 10 to 20 minutes before it begins to brown.

Traditionally Corned Beef Hash is served for breakfast with eggs, but don't let that stop you form enjoying it for lunch or dinner!
CAST IRON SKILLET SALE
Suggested Products