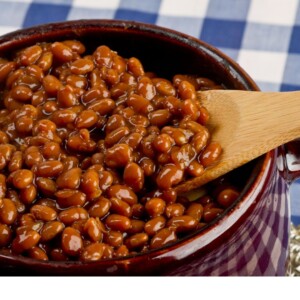 New England Baked Beans
An easy, sweet, and delicious authentic Baked Beans recipes using real maple syrup.
Ingredients
2

lbs

dried beans

Soldier, Navy, Jacobs Cattle, Yellow-Eyed, or Great Northern

1

Large Onion

Quartered (optional)

6

strips of bacon cooked and diced or 1/3 lb. salt pork sautéed lightly in pieces

optional

1 1/2

cups

Maple Syrup preferably amber or darker syrup is best

1/4 to 1/2

cup

Brown Sugar

1/4 to 1/2

cup

Molasses the Darker the richer flavor

1 1/2

teaspoons

Dry Mustard

2

cups

boiling water
Instructions
Rinse and pick over beans before using.

Place these rinsed and picked-over beans in a LARGE container of cold water. The water should be more than double the depth of the beans in the pot as the beans will absorb a large amount of the water. Let the beans soak for 8 to 12 hours.

Place in a large stockpot and cover with water, at least 3 inches above the beans. Bring to a boil and then boil until you can blow gently on the skin of the bean and the skin will start to pull away from the bean. Turn heat down to very low and add 1 heaping tablespoon of Baking Soda to the water. Stirring constantly or this will foam up and boil over. Cook for another 5 mins on low keeping a close eye on the pot. (The baking soda takes most of the gas from the beans).

Drain and rinse the beans again. Make sure to rinse them well.

Place in bottom of the baking dish, bean pot, or crock pot (6 quarts or larger and add onions, bacon or salt pork. Place beans in pot. Mix all remaining ingredients together and pour over beans. Make sure beans are covered.

Bake at 350 Degree oven for about 2 to 3 hours or in Crock pot on Low for 6 hours and then finish in the oven for about 1 hour. Make sure the beans stay covered in liquid so they do not dry out. Test every 30 mins after the first 2 hours when baking or after 5 hours in Crock-Pot. Baked beans should be soft, not crunchy. Overcooked beasn will be mushy.
Baked Bean Pots
A flawless pairing of form and function that doesn't quit, the Lodge Dutch Oven is an enameled cast iron classic that's great for preparing and serving memorable meals.
WHAT IS PORCELAIN ENAMEL ON CAST IRON. It is actually glass that becomes bonded to the cast iron at high temperatures. A particulate of glass, called frit, is applied to the cast iron vessel and then baked at temperatures between 1200 and 1400° F. The glass frit melts and fuses to the cast iron, forming a bond. Porcelain enamel on cast iron is heat tolerant and impervious to water and other consumables.
MAKE EVERY MEAL A MEMORY. Lodge knows that cooking is about more than just the food; it's about the memories.
FAMILY-OWNED. Lodge is more than just a business; it's a family. The Lodge family founded the company in 1896, and they still own it today. From environmental responsibility to community development, their heads and hearts are rooted in America. All Lodge seasoned cast iron and carbon steel cookware is proudly made in the USA, meaning you'll get craftsmanship that has been passed down through generations. Lodge Enameled Iron products are made in China to strict metallurgical and casting specifications.
Suggested Products